MSG - Minimalist Messaging Via Web and Grid Services
service live at chat.eswc2006.org. ESWC2006 delegates can launch their custom MSG environment at that address - the first usage will require you to request a 4-digit PIN number by email, but from then on it's one-click entry.
MSG is a web application that allows you to use the basic functionality of the BuddySpace Instant Messaging system within a standard web browser. This makes it eminently suitable for use in environments where software installation is either difficult or annoying, or in ad-hoc short-lived group environments such as conferences. MSG is what we like to think of as a 'featureless' messenger: there are no parameters, no settings, no options, no groupchat - just a ready-made conference-only roster, simple presence states, and click-to-chat. As with BuddySpace, we remain committed to providing location information, and this lightweight interface enables users to select one out of several conference venues, including coffee, bar, and the main conference rooms, represented as a pure text string, so that contacts can locate one another quickly. For ESWC2006 we are particularly interested in (a) ad-hoc community messaging for a 4-day event; (b) automatic roster grouping according to interest areas (determined from the conference registration forms), and (c) an 'audience challenge' for how to deploy real-time RDF presence-generation for notification services.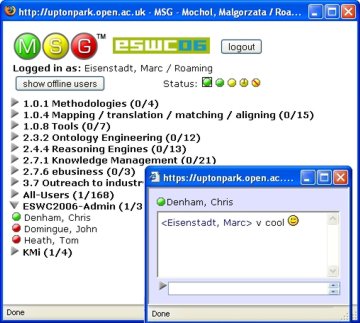 MSG deployment for ESWC2006 showing conference
delegates grouped by interest in the prebuilt chat roster